Tin Pan South 2020 is Going Virtual!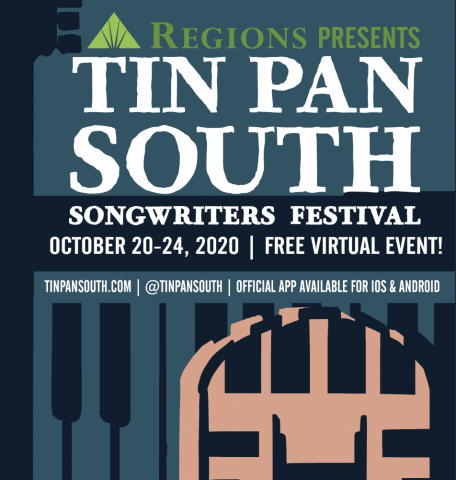 28th Annual Tin Pan South Songwriters Festival Goes Virtual to Highlight Songwriters Across the U.S. and Beyond
October 20 - 24, 2020 
The Nashville Songwriters Association International (NSAI) is proud to continue their partnership with Regions Bank to present the 28th annual Tin Pan South Songwriters Festival on October 20th - 24th, 2020. Due to the coronavirus pandemic, the festival will be moving to a virtual presentation of pre-recorded performances from a diverse array of musical talent spanning across different genres and regions. 
"Although the team behind Tin Pan South will miss holding the festival in our beloved partner venues in Nashville this year, we are taking this opportunity to embrace and welcome songwriters from all around the nation – many of whom may not have had the ability to participate in the in-person event – and are taking on a regional approach in order to highlight songwriters from all across the country," said Jennifer Turnbow, festival director.
Several rounds of performances will premiere simultaneously every evening to provide a festival-feel, with each night highlighting a different region. Appearing throughout the week will be songwriters behind hits recorded by: 5 Seconds of Summer, Jason Mraz, Keith Urban, Lizzo, Usher, Uncle Kracker, Blake Shelton, Little Big Town, Lady Antebellum, Old Dominion, Jordan Davis, Austin Jenckes, Survivor, Miranda Lambert, Big & Rich, and many more! 
For the first time ever, festival shows will be free to experience, with a link (paypal.me/nsaiofficial) available to donate to NSAI to help support their year-round efforts on behalf of songwriters. 
For years, the Tin Pan South Songwriters Festival has served as a way for audiences to discover up-and-coming songwriters and watch legends at work. Since its first year in 1993, the Tin Pan South Songwriters Festival has served as a platform for NSAI to celebrate the songwriting community in Nashville and beyond. Past festivals have seen performances by Lori McKenna, Thomas Rhett, RaeLynn, Josh Osborne, and many more. This year marks the 13th year Regions Bank has served as presenting sponsor for the festival.
For additional information and upcoming announcements about performers, check out tinpansouth.com.
Organizers of the 28th Annual Tin Pan South Songwriters Festival would like to thank the following Platinum and Gold Corporate Partners:
-      Regions Bank - Presenting Partner
-      NewsChannel 5 - Official Broadcast Partner
-      Southwest Airlines – Official Airlines Partner
-      Ronald Blue Trust
-      Workwell Technologies
-      The Nashville Convention & Visitors Corporation
-      ASCAP
-      BMI
-      SESAC
-      Brown-Forman
-      Anthem Entertainment
-      Ford Motor Company

About NSAI:
Established in 1967, the Nashville Songwriters Association International (NSAI) is the world's largest not-for-profit songwriters trade organization and has a membership of more than 5,000 spanning the United States and several foreign countries. Consisting of a body of creative minds, including songwriters from all genres of music, professional and aspiring, for over 52 years, NSAI has been committed to protecting the rights and future of the profession of songwriting, as well as carrying a commitment to educate, elevate and celebrate the songwriter, acting as a unifying force within the music community and the community at large. For more information, visit nashvillesongwriters.com.
About Regions Financial Corporation:
Regions Financial Corporation (NYSE:RF), with $144 billion in assets, is a member of the S&P 500 Index and is one of the nation's largest full-service providers of consumer and commercial banking, wealth management, and mortgage products and services. Regions serves customers across the South, Midwest and Texas, and through its subsidiary, Regions Bank, operates approximately 1,400 banking offices and 2,000 ATMs. Regions Bank is an Equal Housing Lender and Member FDIC. Additional information about Regions and its full line of products and services can be found at www.regions.com.